Following Cleveland Clinic's announcement last month of more than $300 million in budget cuts, we addressed the ongoing blame game over the Affordable Care Act in the mainstream media. Members of the mainstream media have been slow to take up the question, but this week the Plain Dealer asked the question: Is Obamacare really to blame for cuts at the Cleveland Clinic and other hospitals?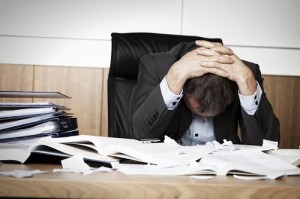 The Cleveland Clinic has previously attributed their budget decision to "a number of factors", as have other hospital systems considering or implementing similar cuts. Now, hospitals spokespersons and health care analysts have provided a more in-depth explanation of exactly how the Affordable Care Act will affect hospital systems going forward.
Medicare
Hospitals already handle a large annual gap between the health care they provide to Medicare recipients and the reimbursement limits that the Centers for Medicare and Medicaid Services place on various services. The ACA includes an additional Medicare spending reduction of $716 billion over the next ten years. Some of the cuts are specifically directed at hospitals, such as the Hospital Readmissions Reduction Program.
Another portion of the pending cuts to hospitals is $22 billion over ten years from the Disproportionate Share Payments (DSH), which cover charity care in hospitals with large numbers of uninsured patients. Hospitals expect to compensate for this particular cut with insurance payments from previously uninsured patients who will have access to coverage through the federal health exchange. These cuts come in addition to other reductions approved by Congress since the ACA passed in 2010.
Medicaid
The ACA expanded Medicaid coverage to include patients earning up to 138 percent of the federal poverty level, in an attempt to provide an affordable health care option to parts of the population too poor to pay a monthly premium even with tax subsidies to help. To ease state concerns about the costs of expansion, the federal government will pay all new Medicaid costs through 2016, when they will scale back their coverage to 90 percent.
However, when the Supreme Court upheld the ACA's individual mandate they failed to uphold the obligation of the states to expand their individual Medicaid programs. In states such as Ohio and North Carolina where the government has chosen not to expand, hospitals will not be able to recoup the loss of Medicaid DSH funds cut through the ACA. With fewer newly eligible Medicaid patients than projected, hospitals are forced to contain their costs through other means.
Bad debt
Hospitals must already contend with bad debt from patients who do not cover the portion of their invoices beyond coverage limits, as well as costs they swallow from providing charity care. The Medicare and Medicaid restrictions described above will contribute to this ongoing problem but interestingly enough, so will the health plans available to patients in the online marketplaces.
The affordability of health care is a complex matter that goes beyond the cost of the monthly premium. Insurers balance low premiums such as those available in Bronze or Silver plans with higher deductibles and out-of-pocket costs, meaning that a patient who seeks care at the hospital will end up with a higher portion of the bill once that care is provided. As much as a third of uncollectible hospital bills are estimated to belong to patients with health care.
Still, hospitals are optimistic that higher numbers of insured patients will create a net gain, as they will be able to reduce their bad debt expenses for uninsured patients and will instead receive payment for at least part of services provided directly from the insurer.
The Cleveland Clinic is one large example of how the Affordable Care Act may affect hospital operations, yet they also offer an important caveat against framing the discussion of other facilities' budget decisions solely within the context of the ACA.
If you provide services to a hospital or medical facility, healthcare factoring can help you maintain a positive cash flow without falling victim to uncertain hospital payment terms. PRN Funding offers a variety of healthcare factoring programs designed to meet the unique needs of healthcare vendors. The application process is fast and easy – contact us to start today.